Maggi and Jessica at the Gates

Last weekend my niece Jessica and I travelled to New York City for our first (but hopefully not last) girl's weekend together. I got the inspiration awhile ago to take her somewhere to celebrate the fact that she will be turning 16 in April. The impetus came when I read that the artist Christo would be doing an installation in Central Park for only two weeks this February. Georg and I were blessed with two sons, but I never had the pleasure of having a daughter. When my sister Caroline was born during my teen years I was able to enjoy playing with a little girl. Then Caroline had a girl of her own, and Jessica has always been very special to me.
We had to have a parkview room, which I fortunately booked early in September. Had I waited longer there would have been none available. Our check-in at the Essex House was seamless. They even let us check-in at 10am. The view from our room took your breath away.
Jessica at the window of our room

The Gates from our room at the Essex House

The Gates

I will always want room 1008 from now on. Jessica was impressed that our hotel room even had a doorbell.
Our first day was 23 hours long. The best way to describe it is in a timeline:
Friday, February 18, 2005
4:10 am Left Detroit airport hotel
6:30am Plane departed for New York
10:00am Arrived and checked in at Essex House
11:00am Walked a bit in Central Park across the street. Jessica rode the 100 year old carousel.
12:00pm Lunched at Cafe Botanica at the Essex House
1:30pm Strolled down 5th Avenue. Jessica shopped at H & M and found two great pairs of jeans and two tops at a bargain. Peeked in St. Patrick's Cathedral across the street. Walked to Times Square and saw MTV Studios and the naked cowboy smack in the middle of Broadway. (Well, he did have on underwear, cowboy boots and a guitar in the zero degree windchill.)
4:30pm Had a reuben sandwich at the Stage Deli and headed back to the hotel to change for the theater.
6:30pm Took a cab to the Virginia Theater to see "Little Women". We had hoped to see Danny Gurwin, an acquaintance I had accompanied on the piano many years ago. He had the lead role of Laurie in the play. By chance he had just arrived at the same time. He had a rehearsal, but told us he would put on names in at the stage door and to come back after the show.
6:45pm The play didn't start until 8:00 and there was a warm inviting cafe across the street named The Russian Samovar. It was wall-to-wall people, but they were just able to squeeze us in at the bar. Our waitress/bartender was Irina with a heavy Russian accent. In fact, nearly everyone but us had a Russian accent.
8:00pm Jessica and I both agreed that Maureen McGovern was the best part of Little Women. I hope we get to see her in concert some day. The show was very enjoyable and we were impressed with Danny's singing and dancing. He played a very loveable character.
10:30pm We immediately headed out the front and through the barricade into the stage door. The attendant sent us up to Danny's third floor dressing room. I'm so glad Jessica was able to see the behind the scenes working of a broadway show. Sutton Foster (the Tony award-winning lead) sailing down the stairs past us. Danny was so warm and friendly, hugging both of us hello and goodbye. He is really a gentleman. When we exited the stage door, crowds of people waiting for autographs saw us and applauded :-)
11:00pm We had 11:30 dinner reservations at Chez Josephine. It was at 52nd Street, so we had 10 blocks to walk, but it was freezing cold and I regretted that we didn't get a cab. The walk was much farther than I expected. The restaurant was all done in reds, crystal, chandeliers and murals of Josephine Baker and friends. A fabulous pianist/singer was at the piano and the tone was hip and lively. The couple at the next table fawned over us, telling Jessica how stunning she was and telling us both that we had "good genes". She was a striking young black woman from the Congo and he was a nondescript businessman type. Jessica enjoyed her southern-style fried chicken and sweet potato fries, while I had crab cakes.
1:30am We took a cab back to the hotel and collapsed into our "heavenly" Westin bed.
Saturday, February 19th
11:00am Jessica actually got up first this morning. We both showered and headed over to a French cafe we spotting coming home last night. It was called Le Pain Quotidien. It was obviously a good spot, as there was a crush of people waiting to be seated and to carryout. We sat at a long rustic communal table with 25 other people. I'm finding out that in a large city people are able to find small pockets of privacy, no matter how many people are around. The food was all organic and phenominal-tasting. Jessica got a soft boiled egg and fresh tomato soup, which she declared to be delicious. The bread was the best I've tasted since Paris. My latte was served french-style in a large bowl without a handle. The tuscan platter had fresh ricotta cheese, thinly sliced radishes, basil pesto, kalamata olive tapenade, prosciutto and melon and that fantastic bread. We both oohed and aahed until the plate was empty. The place was bustling with the very efficient waiters rushing to and fro and the crush of people waiting patiently in line. It reminded me of a huge beehive. At home I would not be able to relax in such an environment. In New York, it just made me feel more alive.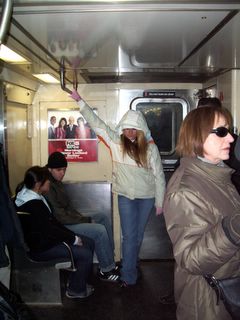 Jessica on the subway

2:00pm It was time to brave the New York subway system. We intended to take the Staten Island Ferry so we could view the Statue of Liberty. After intensive study of the subway map we concluded we needed to exit at Whitehall to board the ferry. We got on the R train towards downtown. The car was jammed and Jessica and I had to stand. The first jolt nearly put Jessica in the lap of a young man sitting next to her. We had a giggle attack over that one. We were able to sit after a little while and I kept watching for the Whitehall station (which never came). When we emerged above ground and we were crossing the water, I got my first inkling that we were not on the right track. We sped deeper and deeper into Brooklyn. Luckily we were able to just get back on in the opposite direction and through some miracle found Whitehall.
Jessica on the Staten Island Ferry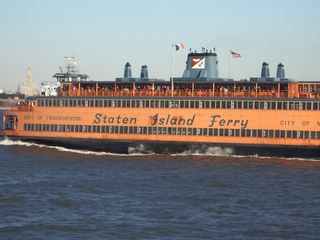 Staten Island Ferry

New York Skyline from the ferry

3:30pm The ferry ride was fairly uneventful, although it was great to see the New York skyline from a distance. We didn't get as close to the Statue of Liberty as I had hoped. When we arrived back in Manhattan we walked a few miles to Ground Zero. I had read that there was nothing much to see there anymore, but we were very moved just to be on the site. The area is surrounded by a high wire fence. The only thing left of the rubble were two steel beams that had broken off in the exact shape of a cross. There was a piece of fabric shred hanging from the cross. There were spotlights aimed at the cross for when it was dark outside. A single eloquent bouquet of roses, tied with a ribbon, had been inserted in the chain link in front of the cross. All the names of the deceased had been engraved on black marble plaques. Jessica and I talked about what it must have been like on that day. I hadn't wanted to visit the site on my last visit to New York, but I am extremely happy to have been there.
4:00pm Directly across from the WTC site was the much acclaimed Century 21 discount store. I wouldn't have gone out of my way to come there, but since it was right there we stopped in. It was very crowded and merchandise was strewn everywhere on it's three floors, with no organization. We couldn't get out of there fast enough.
4:40pm We were getting hungry and decided to walk up 5th Avenue to Serendipity. It had a reputation of being exceedingly crowded with long waiting lines, but we decided to give it a go. It took us at least 45 minutes to walk there and we were rejoicing because there was no line out in front! We rejoiced too soon, however, because inside we were told to put our names on the list and come back
in three hours...
What to do for three hours? We looked around for somewhere to go and decided to try a restaurant called Cabana Nuevo Latino. It was, as everywhere else we had been thus far, jammed with people, talking, laughing, drinking and eating. We carved out a spot for ourselves and waited for a table. I had a mojito, Jessica had a virgin mojito. The food was really worth the wait. Jessica's ropa viejo (shredded beef) was served with black bean puree and rice. My paella was devine. We took our time, enjoying the food and ambiance and ambled back over to Serendipity. By now, our wait time had dwindled to about half an hour and we were seated upstairs. Sadly, we couldn't finish much of our dessert, but what we had was delectible. They are famous for their Frrrozen Hot Chocolate (kind of like an icy chocolate milk shake with whipping cream and chocolate shavings, served in a huge dessert bowl with a spoon and a straw.) It was very tasty, but I think I can duplicate it at home. Jessica loved the eclectic decor. Everywhere one looked there were funky chandeliers, mirrors, antique lighting fixtures, moldings. It was a great place and I could understand it's popularity. We rolled back to the hotel and watched a little of Saturday Night Live before we passed out.
Sunday, February 20th
8:00am I decided to let Jess sleep and took my camera over to Central Park. The sun shone through the saffron fabric of the Gates and contrasted beautifully with the blue sky. The atmosphere was festive and friendly strangers smiled and made polite conversation. On the way back I picked up croissants, coffee and green tea for Jess at LePain. Oh, I love that place. Wish we had one here at home. I'd be there once a week at least.
The Gates - Central Park 2005

9:30am Jess was showered and ready when I got back to the room. I relaxed and read the New York Times with my coffee, while she finished getting ready.
11:30am We had decided to pack and check out, leaving our bags at the hotel until later. We had theater tickets for Slava's Snowshow at 2:00 in Union Square. But first, we were able to get a table for a quick lunch at Le Artisanal, a fondue restaurant in the area of the Union Square Theater. We had a simple cheese fondue, with crudites, fingerling potatos and that wonderful crusty country bread we had at Le Pain.
1:30pm As we entered the theater, Jessica began to get an idea of what this show was about. I hadn't told her anything. The seats, ceiling, and floor were covered in little pieces of white paper. We had front row seats. Slava was a Russian clown who combined humor and pathos in mime. He had a troop of clowns assisting him. I found out later from Jessica that she was afraid of clowns. But I think she was able to enjoy it anyway. It was unlike anything I have ever seen. At the end, there was a huge (paper) blizzard that came directly at us. We were pulling bits of paper off of each other for the next 24 hours. When the lights came up the clown brought enormous balls out and bounced them into the audience. They must have been at least six feet in diameter. There were a lot of smaller balls as well. The next half an hour the audience played with the bouncing balls. Even the adults became like children again. It was wonderful.
4:00pm We hailed a taxi to take us back to the Essex House for our bags and then to LaGuardia. We always got into conversations with our cab drivers. The first one we had coming into New York from the airport was from Bangladesh and had a master's degree in economics. This guy, Sandor Tecsy, was a Hungarian actor, approximately 58 years old; a huge guy with a head of white hair. He talked nonstop about his acting gigs and where we could see him: on Law and Order, the movie Fever, etc. He actually was a very interesting guy and the drive to the airport went by very quickly.
5:30pm Our flight was supposed to leave at 7:30pm. Georg called me on my cellphone and told me there was a bad snowstorm in Detroit. As the evening progressed, our flight, as well as everyone elses, kept getting delayed. Finally at 11:30pm all flights to Detroit were off. One group of people had been waiting in the plane on the tarmac for four hours and had to deplane after all. People were irate, shouting at ticket agents, talking into their cell phones trying to make other arrangements. We were told by Northwest that there were no available seats the following day, Monday. There were, however, seats on flights leaving Newark - a one hour cab ride from La Guardia. A nice couple befriended us and helped us secure a flight out of Newark at 7:30 in the morning. We split a cab with them and headed for New Jersey. By this time the blizzard had hit us and we saw four bad accidents on the way to that airport.
Monday, February 21st
1:30am There was no place to lay down, so Jessica and spent the night sitting at the only thing open in the airport: McDonalds. There was a nice young man, 17 years old, waiting there as well and he and Jessica hit it off like gangbusters. Before long, they were laughing and talking like old friends. His name was Chris. He was from Grand Rapids and was a paintball expert, traveling around the country giving instruction. But his goal was to be a firefighter. Before we parted ways they had exchanged e-mail addresses.
5:30am I went to check-in and get our boarding passes for the 7:30am flight. To my dismay, the flight schedule showed that flight was being
delayed,
due to mechanical difficulties.
1:30pm We were so happy to get home after our ordeal. Nothing can change the great time we had and the memories we were able to make together. We thank the Lord for all His wonderful blessings.
IT WAS WORTH IT!